Our parad shivling products
How is Parad Shivilingam made?
The process is arduous and time consuming. Several herbs are used first to cleanse the metal and then solidified into the shape of the shivling. After undergoing five stages of solidification, in the sixth stage solid Parad strips are poured to get the shape of the shivlingam. Die cast shivlings too are made.
Making of paradshivalingam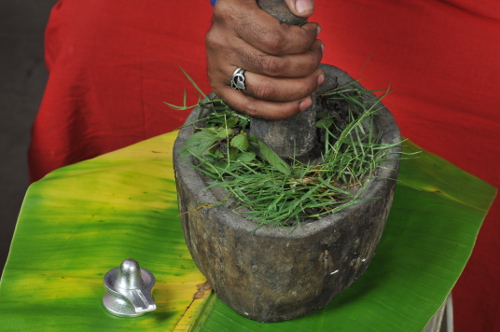 "STAGES OF MAKING PARAD SHIVLINGAS "
Sherbs and herbs such as Some important herbs like Chitrak, Nakhshinkani, Vyagrapadhi,
Shankpushpi, Bhilavaa, Putrajivika, Laajwanti, Neem, Shami are used on one stage of cleaning and then, Soamlata, Jatamaasi, Vakratundi,
Kanguni, Jalakumbhi, Mahakali, Dantimool, Kumpari, Devdaali, Aawala also are used.
Bel,Safed palas, Dudhi, Shivlingi, Safed gunj, Indravan play an important role in the purification procces.
the above said are used in the process of purifying liquid mercury (parad).
Some Vanaspathy and herbs used in the process of making mercury (parad) solid.
Crushing semisolid mercury into herbal juices to remove further impurities and at this stage the parad is all set for going to heat process.
Heat treatment is duly done on solid mercury (parad) to make it withstand
at high temperature; this is a gradually done process, for several reasons the entire procedure is not explained here and will not be shared also.
Final Purification is done while heating solid mercury (parad) with the help of herbal oils.
From this the process of making each and every piece of Shivalingam will be made out of parad shivalingam.
The unique each and every shivlinga is taken using die-cast and parad shivlingam made from pure solid mercury.

send us enquiry to get the best parad shivlingam ,contact us at seva@srie.in or can phone at +91 99677 48477